Stone Garden Ornaments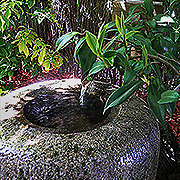 Stone has been used in garden for centuries, stone walls and stone paving being popular along with other stone features. Stone garden ornaments and features can include stone garden statues and ornaments, stone benches, furniture, tables, planters, urns and pots.
Today material such as Polystone provide an economical alternative to solid stone. Polystone is a combination of polyurethane resin and powdered stone. On the surface, the products look almost identical, however the new material has a few advantages. Its cheaper and can be used to cast sculptures and other garden ornaments that otherwise would be difficult to reproduce.
Many forms of reconstituted cast stone are available, finishes vary from traditional sandstone, marble, grey and terracotta through to modern interpretations.
A place for real stone in the garden still exists, simple ornamental stone bowls, sculptures and stone walls are all examples.
Ornamental Stone Walls for the Garden
Dry stone walls can also be a feature in themselves, when properly built a dry stone wall can be a magnificent ornamental feature in a garden. In fact stone paving and stone walls are perhaps the most popular use of stone in gardens across the UK.
We also have water stones, garden rockery stones, feature stones such as stone monoliths and indeed a complete range of stone products and features for the garden.
Stone as a Garden Product
So why has stone been so popular as a garden product for making garden ornaments, statues and garden features for so long.
Originally because it was because stone was available for free, was strong, long lasting and was often found on site.¬?
Today stone is popular for its aesthetic appeal and its strength. Stone brings a feeling of nature to a garden, and from slate walling to welsh cobbles stone has a place in the garden.
For centuries stone has been formed into sculptures and object of art, and again these are most suitable for outdoor use.
And yes reconstituted stone is making its way into the world of garden design in a big way, cheaper and lighter than the real thing, reconstituted stone products have come a long way in recent years, well worth a look.
John Allman
People who enjoyed this also liked
You May Also Like