Garden Edging Ideas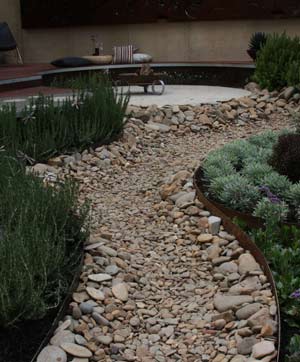 A clean edge in the garden helps define the border of garden beds, paths and lawn areas, we look at ideas and materials for sale in the UK.
The benefits and applications of lawn edging ideas and products such as stone, metal (picture right), brick, timber, plastic and rock, all differ, choosing the best for garden is the idea.
Decorative border ideas and products to fit all styles of garden are available to help create a garden border with a defined edge that is easy to maintain and materials such as traditional Victorian Styles add great visual appeal. Tools for creating 'cut edges' are available. Raised garden beds can easily be created with many modern materials.
Garden Edging has been a part of landscape design for many years. Edging gives a garden border definition, it create boundaries, add to the overall sense of design, provide a guide for visitors and act as a practical barrier between garden and lawn, or path and garden.
Metal Edging is popular, strips of metal up to 200mm high provide a strong edge for raised garden beds. Brick borders can be used to form a solid bed, raised to a suitable height. Stone edging can be laid to create an attractive barrier between lawn and garden. Timber and bamboo are easy to work with and economical. Plastic of PVC is often a recycled product, these are economical and long lasting.
Victorian Garden Edging is available in the original Cast Iron, however a cheaper frost resistant Victorian Style that looks like cast iron is now also being manufactured using Resin and PVC.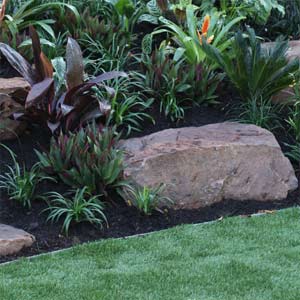 Garden Border Edging Materials
Victorian Lawn Edging
Picket Lawn Edging
Ceramic Lawn edging
Log garden edging
Garden stone edging
Metal garden edging
Plastic garden edging.
Bamboo Garden Edging.
Wooden Garden Edging
The cheapest idea is of course a dug edge or border, all you need is a sharp spade.
So what is appropriate to your garden?

Consider:
Material Cost
Visual appeal
Ease of installation
Permanence
Required Height
Easy to mow to and over
Safety considerations¬?
People who enjoyed this also liked
You May Also Like