Fragrant Roses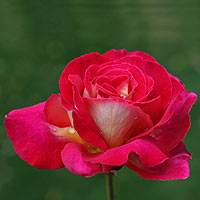 The fragrance of scented roses in the garden creates instant impact at the height of the season. If you are looking at creating a sensory garden or a romantic perfumed garden roses are a wonderful addition.
Many varieties of roses are scented, however the perfume produced differs from rose to rose and intensity also differs.
The fragrance is influenced by the type of rose, however the weather conditions, mainly warmth and the health of the plant will also influence fragrance. Fragrance also changes as the flower itself ages.
Roses are most fragrant when they are 1/3 to 2/3 open, and this is when they are ready for pollination, rose perfume is for attracting insects, we just get to enjoy it as a side benefit.
The fragrance itself also differs from rose to rose, and you may find that some are more appealing to your senses than others. So simply choosing the 'most fragrant' roses from a list is not actually a good idea if you are fussy. Its a little like selecting perfumes, some you like, some you do not.
Roses fragrance is described using seven main terms.
Damask which is the rose scent

Nasturtium

Orris

Violets

Apple

Clove

Lemon
If you can imagine those scents you will understand the variations a little.
You will also find other terms used to describe the fragrances, including honeysuckle, hyacinth, honey, wine, marigold, peppery, and fruity.
We guide through our top ten scented roses for the garden, an interesting collection of roses all with their own beauty. How to choose a rose for scent and how to plant a rose. Links to rose nurseries and rose growers.
Most Fragrant Roses for the Garden
The perfume or fragrance of roses it a part of the great appeal these plants have had for centuries. Some roses have a very strong fragrance others are more subtle. Our collection includes:
Ispahan
Ispahan is one of the most fragrant of all roses. A heavy Damask Fragrance and a long flowering rose.

Double Delight
A more spicy fragrance than some, long flowering and excellent double flowers as well.

Jude The Obscure
A strong citrus fragrance with wonderful complex yellow petals.

Gertude Jekyll
Another with a strong scent. Nice deep pink flowers.

Abraham Darby
A nice fruity scent. Pink flowers.

Memorial Day
Great for cut flowers and fragrance, however this one performs best in a warmer climate. However well worth a try in a sheltered position

Dublin Bay
A climber with fragrance, repeat flowering and great clusters of red flowers, no wonder its so popular

Etoille de Holland
An old rose with a distinctly Damask perfume. Scarlet blooms and great on a rose arbor.

Ardoisse de Lyon
A repeat flowering rose with a sweet fragrance.

Zepherine Drouin
A climbing fragrant rose with dark pink flowers. This is almost thornless, and vigorous as well.
Did you know.
Roses are more fragrant in the morning than in the afternoon.
You May Also Like