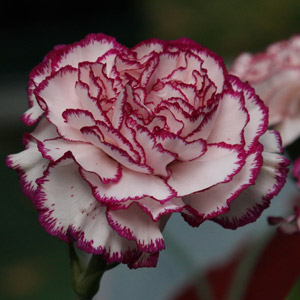 Carnation Plants
Grown for the colourful flowers and sweet fragrance carnation plants are popular both as cut flowers and in the garden border.
Specialist nurseries offer many varieties and strains for sale, including the late flowering Marguerite, long stemmed and spray carnations, perpetual and Malmaison, as well as border carnations and pinks.
How to grow Carnations
Carnations can be grown in the border or in containers and are actually fairly easy given the right conditions. The Perpetual, Spray and the wonderful fragrant, but difficult to find Malmaison types are often grown in containers and usually in a greenhouse. The Border types are the ones grown in the garden.
All carnations require a sunny position and a free draining humus rich soil, they also require protection from slugs and frost when young.
Propagating Carnations from Cuttings
In autumn it is time to take cuttings from carnations, pinks and dianthus which are all the same family. It is a fairly simple process and you can also take cuttings from the carnations that you buy at the florist
Use a sharp knife to take off shoots with a heel of old wood.

Dip in a rooting hormone for good results although not needed, some graders use honey.

Place cuttings in a propagating mix and use a plastic cover to retain humidity.

They should strike within a month, do not disturb and keep moist until new growth appears strong. A little liquid seaweed fertiliser once new growth commences.

They should be ready to plant out in spring.
Perpetual, Spray and Malmaison varieties
These are the ones usually grown in a greenhouse in the UK.
Usually grown from rooted cuttings purchased in January, try not to over pot when young, carnations like most plants resent over potting.
Start with a 3" pot and wait until the root system is fully developed before potting up. For thos who are perfectionists, a pH of around 7 seems to be ideal
You will need a plant support if you want to grow the taller types s uccessfully and have flowers worth picking. Plant supports can be fashioned from wire and timber stakes, or you can buy flower supports from good garden centres.
The trick to producing lots of flowers is called 'stopping' this is simply pinching back the young growth to encourage the plant to send up lots of shoots instead of one tall leader.
Commence this 'stopping' when plants are at around 6 - 8 inches tall and continue until you have a nice bushy habit. You can them leave the plants to flower, or continue pinching back a few stems every week or two to promote a more staggered flowering seasons.
Be a little careful not to pinch back to often, it takes around 8 weeks for a bud to form after pinching back, so otherwise no flower buds will form.
If you are looking at producing 'Show quality blooms' the pinching back is a little more complicated.

We like to fertilise when we water, we use a seaweed based liquid fertiliser, and a some slow release fertiliser as well.
Carnation Plants are available for sale from the following nurseries and suppliers
NEWPORT MILLS NURSERY - Phone/fax 01823 490231
Wrantage, Taunton TA3 6DJ
Mail order nursery supplying. Elatum Hybrid English bred Delphiniums. English classic highly scented Perpetual Flowering Carnations. Old and modern scented Pinks. Free catalogue on request.