Sundials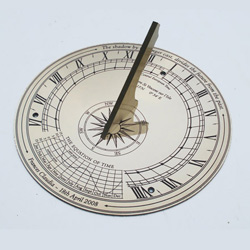 If you though sundials had pased their use by date your may be wrong. Gardeners are looking at sundials not only as an ornamental feature in the garden, but also as an educational one.
A range of sundials are available for sale with a number of different types adding interest to any garden that gets a little sun.
A wonderful garden ornament Sundials, are also fascinating for both adults and kids alike. They are a great educational tool for children, can be a really attractive addition to the garden, have been around for centuries and work simply by using shadows.
Now you can buy a range of sundials suited to the garden and some even wall mounted, custom made or off the shelf they are an interesting addition to the garden of courtyard.
Image Courtesy Merlin Sundials UK
History of Sundials

They are the oldest scientific instrument of all and are of great historical importance. Originating as early as 5000 BC as simple sticks in the ground sundials developed over the centuries to become accurate measures of time. In 250BC the Greeks started to construct complex sundials. In about 100BC the 'Tower of The Winds' was completed in Athens. This tower had an octagonal shape and each face contained a sundial.
Buying a sundial for the garden.
Sundials came be a fascinating architectural feature in the garden or public park or a simple understated ornament. They are intriguing and can be a great educational tool for children as sundials also provide us with an historical link to early astronomical practices.
Powered only by the sun itself, sundials add a sense of timelessness which is interesting for something that tells the time. Sundials can also be a great feature in a smaller courtyard. Sundial types including wall mounted sundials are available for sale in the UK online and have been a feature in gardens around the world for centuries. A Sundial has both a decorative and functional purpose.
A well placed sundial adds interest and a focal point to the garden. With sundials available for sale in many styles it is worth considering placing a sundial somewhere in the garden or courtyard.
How Sundials Work
Sundial work using mathematical principles to have the sun cast a shadow on different parts of the sundial at different times of the day.
Types of sundials
Horizontal sundials are probably the most common. This type of sundial is usually mounted on a pedestal but often set into the ground itself.


Vertical or 'declining sundials'. These wall mounted sundials were set onto the walls of churches and other south facing public buildings


Human sundials (Analamatic sundials) with these the time markers (stones) are set into the round, a person stands on a point that changes each month and this is great way to teach children about time, the movement of the earth and all of that science stuff?Ķ every school should have one.


Equatorial Dials were based on the armillary sphere, much more complex than other sundials Equatorial Dials certainly create a sculptural effect and make a great talking point as well as an historical reference.
John Allman
You may also be interested in
You May Also Like