Fire Pits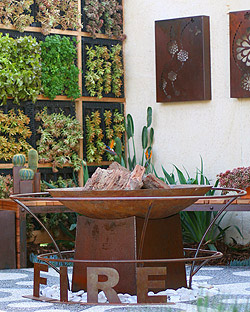 Garden Fire Pits and Outdoor fire pits are increasingly popular in the UK and can help you make the most of your outdoor living area or patio. Fire Pits may be custom made or purchased online. Gas or propane fire pits are popular however so are traditional fuels. Covers and fire tables are also available.
Fire Pits are designed for outdoor use and include both garden and patio fire pits.
Used to warm outdoor areas a carefully placed and well designed fire pit also adds to the overall ambiance of any outdoor or patio area.
Guide to selecting a fire pit.
Fire Pits may be fuelled by propane gas, or wood. Some are made of rock or stone and others are constructed from metal or clay.
Propane or gas, fire pits
Both provide an instant heat with little preparation. Some models use rocks as a base, so it looks like coals on fire, others use a variety of decorative techniques.
Wood Fired Fire Pits
Fire pits fuelled by fire wood may take a little to longer to heat up and may require more cleaning, however a real flame provides a different feeling and this may be seen as desirable. Rock or stone firepits need to be built by experienced contractors. Rock and stone both contain moisture and when subject to heat may crack or explode. If you are thinking of constructing your own firepit you should consult with an expert. ¬?
You May Also Like