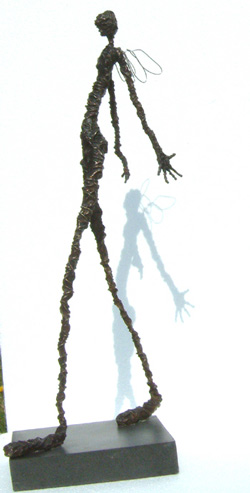 Garden Sculptures
Garden Sculptures have been a part of garden design for centuries. Garden sculptures may take the form of a memorial, a replica of an object, a figure or an abstract shape. Garden sculptures may also incorporate water features. Many garden centres will sell a range of garden sculptures and unique designs may be commissioned from artists across the country.
A guide to materials used in garden sculptures
STONE.
Stone is the traditional material for garden sculptures, basalt, marble, granite, sandstone and reconstituted stone. Stone is long lasting and will usually age well.
METAL.
Bronze, Copper and Iron are the main three metals used. Stainless steel is a recent addition.
TIMBER.
Timber is used widely in garden sculptures, however it will need to be preserved.
GLASS.
Another 'NEW' material for use in garden Sculptures, Long lasting but it can be fragile.
TOPIARY.
Yes, plants themselves make great sculptural forms, the old art of topiary is making a comeback.
Wiltshire based sculptor Julieann Worrall Hood has become known for her lively willow and wire sculptures of hares. Sketched in the fields around her home, the life sized hares are mounted on a steel pole which can be pushed directly into the ground or into a specially made steel stand. They look lovely leaping around on the lawn or in amongst flower beds.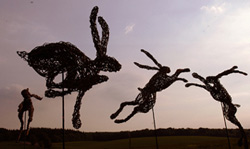 >
Julieann works to commission. See more examples of her sculptures and mosaics on her website www.woho. co.uk
or contact her on 01672 851664
You May Also Like