Garden Pots and Planters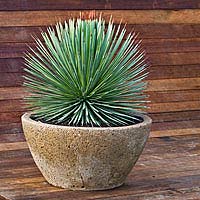 Garden Pots , planters and containers are available for sale in the UK in a range of materials including terracotta pots, plastic garden planters and pots, stone planters, lightweight GRC and metal garden planters.
Not only functional and decorative but garden pots and planters that provide flexibility in garden design for plant pots for the UK garden. With large garden pots and planters available for sale in lightweight materials it is now easier than ever to find a garden pot or planter suitable for your garden, courtyard or terrace. Specialist herb pots, strawberry pots and orchid pots and planters are also available.
Stone Garden Pots and Planters are a very popular addition to the garden, old stone troughs in particular are much in demand to use as planters to give a rustic look to the garden.
Most stone pots and planters are actually cast rather than solid stone, this is simply a matter of practicality, cast stone is cheaper, lighter and much easier to deal with than 'real stone' when it comes to making pots and planters
Garden Pots and planters come in a huge range of sizes and materials. Large garden pots are suitable for some applications however smaller pots are more commonly used and these are suitable for bulbs, succulents and many smaller growing plants that either require extra care, or need to be shifted from season to season. Plactic garden planters have the advantage of being lightweight.
Terracotta Garden Pots and Planters
Long a favourite with gardens terracotta garden pots have a style that is ageless, although modern terracotta pots certainly push the limits.
When purchasing this terracotta pots look for ones that are 'frost resistant' This means that they have been fired at a higher temperature than others. How can tell? Give the pot a tap with your knuckles, if it makes a dull thud - low firing temperature if it makes a ringing sound - high firing temperature.
Garden Pots and planters come in of materials such as traditional terra cotta pots, plastic gardening pots, glazed ceramic pots, cast iron and aluminium pots and even stone and timber.
Lightweight Garden Pots and Planters.
If you are looking at being able to shift pots and planters around, then maybe lightweight GRC pots are the answer. GRC garden pots are Fibre Glass reinforced concrete. Available in a range of styles form traditional to modern, strong, but lightweight.
Styles of Garden Pots and Planters
With a huge range, from the traditional shapes, urns and the like through to sleek modern designs. It is well worth browsing catalogues and nurseries to find a garden pot that fits in well with the style of garden you have in mind.
Plastic Garden Pots andPlanters
Plastic Garden Pots and Planters have come a long way in recent years. Originally they were designed for the nursery industry as a cheap way to grow and sell plants in containers. Plastic garden pots are now available in a huge range of colors and sizes, lots of different shapes and in UV resistant material to stop degradation. Many plastic garden pots can now be recycled, a great innovation.
Garden Pots and Planters for Sale Online in the UK
M.LENNON - the smarter way to buy Garden Pots. p: +61 7 3281 8166
M.Lennon supplies Garden Pots to small and medium sized Nurseries and Garden Centres eager to outdo the big warehouses. In the one shipment we can supply glazed, terracotta, Hi Fired, Sandblasted, Painted, Terrazzo, Fibreglass pots and water features.
WEB www.mlennon.com
e:office@mlennon.com
MOUNT FOLLY NURSERIES
Southwick Road North Boarhunt Near Wickham Hants PO17 6JH
Phone : 01329 832294 : : 07000 M-O-U-N-T-F :: 07000 F-U-C-H-S-I-A
INCLUDES GARDEN POTS
www.mountfolly.co.uk
FLORA SELECT - phone 0044(0)7855323524 or 0044(0)1245422353
Unit 26, ReedsFarm Estate Writtle, Chelmsford Essex CM13SB
Garden plants, garden planters, planters, and garden pots are available online from Floraselect.
PLANTERS PARADISE - phone 01233 610419
Garden planters, indoor planters and pots in a wide range of styles, colours and finishes. Traditional and modern styles are available in metalwork, stainless steel, galvanised steel, coloured fibreglass, timber and moulded plastic.
You May Also Like