Fritillaria conica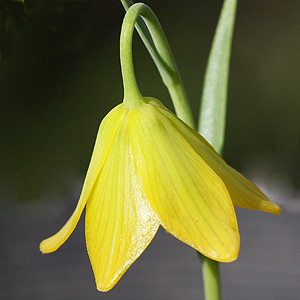 Although it is endangered in the wild Fritillaria conica is easy to grow, and bulbs are readily available for sale online. Its bright yellow flowers are a highlight in the garden in early spring. (see pictures right and below)
A wonderful low growing frit from the Peloponnesian peninsula in Greece Fritillaria conica grows in light shade in partly wooded areas. The foliage is glossy green and the flowers are a clean clear yellow.A wonderful species for beginners as it is easy to grow in a well drained soil.
Low growing and the flowers are not huge but they are lovely. For us it grows well in a container and we repot every 3 years.
Care
Fritillaria conica grows well in a part shaded position to full sun. The warmer the clinate the more shade. A humus rich but well drained soil is essential. As this is an early flowering species for us we suggest that in colder climates you may need to over winter indoors, especially if you are subject to freezes or late frosts.
Excellent in the rock garden and equally at home in containers.
Propagation is from seed, or by division of established clumps every 3 - 4 years.