Fritillaria sibthorpiana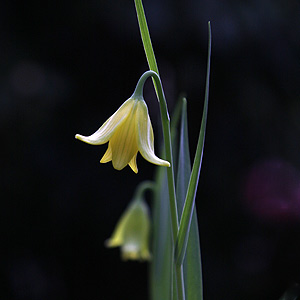 Originally from Southern Turkey, Greece and nearby areas the very pretty Fritillaria sibthorpiana (see picture right) is one of the smaller growing species . A small to medium plant, delights gardeners with lovely buttercup yellow flowers. This is another species that is a must for collectors around the world.
Named after John Sibthorp professor of botany at Oxford and plant collector. Fritillaria sibthorpiana is becoming a little difficult to find in the wild, however bulbs are available for sale from specialist nurseries.
Fritillaria sibthorpiana will grow to only 20cm however its dainty, almost translucent bell like flowers are most attractive.
Fritillaria sibthorpiana Care
Like most other species, f. sibthorpiana requires a well drained position to avoid bulb rot, and can be successfully grown in a large container or pot.
Flowering in early spring the light yellow flowers are held on short stems above the foliage.
Propagation is from seed or by division of clumps of established bulbs
For more Fritillaria and Fritillaria Nurseries in the UK see our Main Fritillaria page or view information on individual species below: