Spring Flowering Bulbs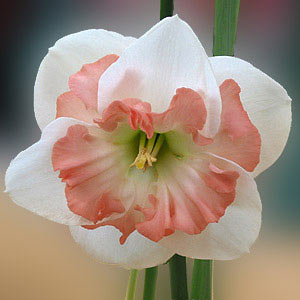 Here we look at spring flowering bulbs for the UK. Many shrubs and perennials are listed separately however flowering bulbs that herald the begriming of spring a new gardening season and after the colder months are a delight in any garden.
The classic spring flowering bulb is the daffodil (narcissus) and literally 100s of varieties of this spring flowering bulb are available
With such a range of bulbs available that will flower during spring we provide a guide to our favorite bulbs and when and where to plant them. Many bulbs will flower late in spring in very cold areas, check with your local nursery for details in your area.
The Daffodil is perhaps the classic spring flowering bulb - pictured right.
Planting Spring Bulbs
We know that as it comes into autumn it's time to start thinking about buying and planting bulbs for a fantastic show of flowers in spring. It is better to buy bulbs early in the season than late, although some will be on sale a little cheaper in winter as nurseries try to clear stock.
Bulbs can be planted in rock gardens, pots and containers, naturalised into the lawn, woodland or planted in large clumps in the garden border add a real splash of colour and, if you choose the right bulbs, fragrance to the garden at the end of winter.
There is nothing difficult about planting spring flowering bulbs if you choose the right conditions for the species.
Most bulbs require a well drained soil in a sunny position, some need to be lifted over winter to prevent damage from the wet and cold and in general you leave the foliage until it dies back as this is what provides the energy for the next flowering season.
Planting depth for most bulbs is three times the height of the bulb itself, however some bulbs need to be planted with their neck above the soil level.
Many bulbs will flower indoors depending on light and humidity, so don't be afraid to bring in a pot or two for a little added colour to the kitchen or a sunny windowsill.
Spring Flowering Bulb List
Spring Flowering Bulbs are usually planted in Autumn, so a little research into what and where to plant and a shopping list of desirable additions is a great start. Some bulbs are short lived and others have a longer lasting flower. With different heights and colors the best tip is research.

Daffodils
Perhaps the m ost popular of all Spring flowering bulbs. Daffodils come in a huge range of colors and forms. Dwarf or 'miniature' daffodils can take a place at the front of the border. Daffodils do well in pots and when planting in the border they look great in groups or clumps.
Looking for Daffodil Bulbs


Tulips
Remember that tulips also come as 'species tulips' perhaps not as bold as the hybridized varieties that we see as cut flowers, but fascinating forms. Look for double tulips and parrot tulips. Explore the world of tulips


Hyacinth
Fragrant Hyacinth have long been popular as a bedding plant. With a great range of colors from white through to blues and reds, Hyacinths do well in pots as well as the border.


Fritillaria
One of our favorites, not always easy to grow, and different species will flower at different times, but look for Fritillaria Michailovskyi, Fritillaria.meleagris and the later flowering Fritillaria Imperialis . Fritillaria Bulbs


Crocus
One of the earliest of all the flowering bulbs is the Crocus, however not all Crocus are spring flowering, so do a little research into these spring wonders, Crocus tommasinianus, Crocus angustifolius and Crocus sieberi. Crocus Bulbs


Erythronium
A little later than many bulbs, Erythronium or 'trout lilies' are well worth the wait. A little light or dappled shade and a humus rich soil and they are happy. Erythronium Nurseries


Galanthus
The first of them all, Snowdrops are a wonder and well worth naturalizing. Galanthus Bulbs


Allium (Ornamental Onions)
Later than most and almost summer flowering, a huge range of forms available. Alliums
Other great spring flowering bulbs include:
Iris
Spanish bluebell
Scilla
Puschkinia
Eranthis
People who liked this also liked