Lilium speciosum var. album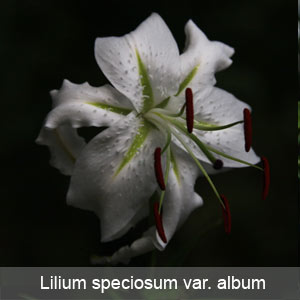 A wonderful tall growing pure white lilium, Lilium speciosum var. album is one of the prettiest of all white lilies.
With contrasting golden antlers and pale green nectaries this is a fragrant garden plant that plant flowers late in the season for us.
The flower is a Turk's Cap form with attractive recurved petals, and this is a hardy lilium that will reach around 1m in height.
Now depending where you live you could grow this outdoors (warmer areas) or indoors.
Perhaps a greenhouse given the vagaries of the UK summer. And yes it is well worth the effort.
Lilium speciosum var. album Care
Lilium speciosum var. album grows well in a deep humus rich loose open soil, but well drained, and in full sun in our cool climate. We like to dig in some well rotted compost before planting lilies and this is no exception. Soil remediation is always best carried out well before planting for best results. Fresh manure should not be used at the time of planting.
Bulbs should be planted around 10 - 15 cm deep. Yes you can grow these in containers, us a deep one perhaps with some support to hold the stems upright.
Summary
Part shade buy not deep shade
Humus rich moist but well drained soil
Flowers in summer to late summer
Can be grown in containers, but best in ground
Wonderful white fragrant flowers
OTHER FLOWERING BULB RESOURCES