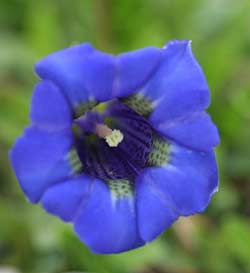 Gentiana acaulis
The species that everyone wants to grow, Gentiana acaulis which is a low growing gentian, almost a ground cover with the wonderful blue flowers rising directly above the foliage. So it is called the stemless gentian.
Its natural habitat is the European Alps, so it does like a cold winter.
We think that it also appreciates some lime in the soil, although it is said to do well in acidic soils as well, we are using lime.
Spring flowering although will come again in autumn in some gardens, the plant will form a thick evergreen carpet, and when the flowers do arrive they are a wonderful vibrant deep blue.
Care
Excellent drainage, sun and moisture are all essential, in warmer climates some protection from the hot afternoon sun is suggested.
Propagation
Division of larger clumps is the easiest, you can grow from seed if you are the patient type, 3 - 4 years to flowering, if you are lucky.
Problems
Most gardeners seem to be able to grow the plant, flowering it is another thing all together. We think the combination of drainage, moisture, sun and a cool winter are all essential, and as we said, we do use some lime with Gentiana acaulis
You may also like