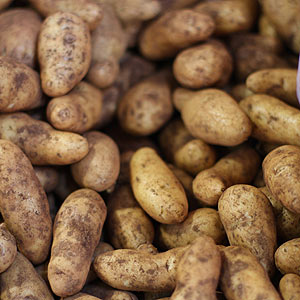 Potato Varieties
Available for sale online, seed potatoes are available in a number of varieties and are a wonderful for both the allotment and home vegetable garden.
All types grow in similar conditions, however different potatoes have different characteristics for cooking. Over the years many different varieties have been developed including the Kipfler which originates in Austria. Good for boiling, roasting and steaming.
Generally potatoes are described as either "Waxy" or "Floury".
Waxy types have a lower starch content and are great for boiling, excellent for salads and stews.
Floury types have a higher starch content and are used for baking, chips, mashing.
We often here the term 'First Early' potatoes, this simply refers to those that will be ready to harvest generally in around 3 months from planting.
Some to look for are Elisabeth and Annabelle both great for growing in containers. Lady Christi which is a high yielding type. The heritage Red Duke of York and Winston, one of the best earlies for baking.
Types of potatoes for sale and chart of uses.
Roasting Potatoes include:
Arran, Royal Blue, Cara, Celine, Desiree, Maxine, Picasso, Ruby Lou, Romano, King Edward, Winston, Kondor, Maris Piper, Stemster and Valor.
For Chips try:
Nadine, Kestrel, King Edward, Desiree, Kennebec.
For Boiling try:
Nadine, Dutch Cream Kestrel, Desiree, Kipfler, King Edward.
For Mashing try:
Kestrel, Nadine, King Edward.
For Salads try:
Nicola, Ponfine. Juliette, Chalotte, Maris Piper.
For something different try: Salad Blue, with purple flesh it looks great mashed and roasted.
How to them is no secret, any deep rich well drained soil will work.
Growing Potatoes
Most gardeners grow potatoes in the ground and rotate crops each year. A few little tricks can make your potato patch a lot more productive.
Potatoes like a deep rich soil,

Plant seed potatoes in a trench and as they grow pile the earth up around them. This st ops the potatoes from being exposed to light and going green. (Green potatoes can upset the stomach, so avoid them)
This process also helps produce more potatoes as they tend to form on roots near the surface, as you pile up the soil, new roots, new potatoes, more potatoes....

Try a good organic fertilizer, blood and bone, seaweed extract, fish or liquid comfrey.

Keep the water up and away you go.

Other Methods of growing potatoes
The Care Tyre Method
Potatoes can also be grown in stacks of old care tyres.
Prepare a circle of soil.
Place one care tyre on the ground, around the circle.
Plant the seed potatoes at the bottom, let them grow to about 50cm.
Place a tyre over the top and add 8cm of soil, let hem grow a little more.
Add some more soil, add another tyre and so on.
In the end, you will have a stack of potatoes.

Harvesting Potatoes
Once the lower leaves start to die back its time to harvest the potatoes. You can harvest all of them at once or from the top down a tyre at a time. This process can also work with other tube like structures. If you plan to store your potatoes, cut off the foliage and let the potatoes rest in the ground for 3-4 weeks to allow the skin to 'set', they keep longer this way. Store in a dark, cool, well ventilated spot.
Seed Potatoes are available for sale from the following nurseries
Always buy seed potatoes as Certified Grade Seed Potatoes from reputable suppliers. Yes it is possible to buy some from a specialist green grocer and keep them for seed, or use left over potato peelings. However, you do run the risk of introducing diseases if you use leftovers or buy from supermarkets or green grocers. So we recommend that you always buy certified seed potatoes.
DEFLAND NURSERIES LIMITED
Benwick Road, Doddington March, Cambs. PE15 OTU
tel. 01354 740553 fax 01354 741200
Specializing in Organic Plants for Garden Allotments. Vegetable, Salad, Herb, Strawberry and Ornamental Plants