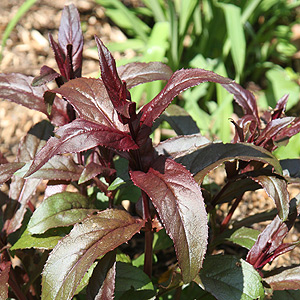 Penstemon digitalis 'Husker Red'
A penstemon with brilliant red foliage to go with the white flowers, 'Husker Red' is an excellent choice for the perennial border.
The foliage is a worthwhile addition on its own, and when the flower spikes appear in mid to late summer, they add a little height to the garden, reaching nearly 1m.
The tall flower spikes, with a touch of pink sometimes, are well suited for cut flowers and are attractive to bees and birds.
A versatile penstemon that will survive wet winters and dry summers. Over time it will form a spreading clump. Some gardeners like to give them a 'spring prune' before they send up the flower stalks, this gives you a shorter stronger flower stem.
Care
This is an easy care plant, it tolerated dry conditions and enjoys full sun. For best conditions try a humus rich soil with added aged animal manure.
Much around the plants to maintain a cool root run. For mass planting space at around 30cm.
You can get repeat flowering if you cut back, or deadhead the old flower spikes. Many gardeners find that for the first season newly planted Penstemon 'Husker Red' do not appear to grow much, and do not flower. Be patient, they will reward you the second year and from then on.
If you are going to divide penstemons try to do it without disturbing the roots to much, simply use a sharp spade to cut the clump into 2 or 4 and replant. This avoids root disturbance.
Yes you can grow 'Husker Red' in a container as well. Propagation from cuttings is easy.
Penstemon digitalis 'Husker Red' is available for sale from the following nurseries as seed, and or plants.
Culm View Nursery - 01823 680 698
Hayloft Plants - 01386 526 999