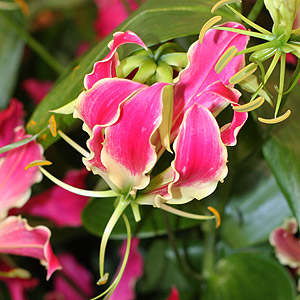 Gloriosa Lily
Gloriosa superba or Gloriosa Lily (Flame Lily) is 'Gloriosa superba rothschildiana ' is the national flower of Zimbabwe.
Grown from a tuber the flowers produced by the Gloriosa Lily are very attractive and plants can be planted in pots or planted directly into the garden.
Gloriosa Lilies need to be provided with some support as they are a climbing plant.
The Gloriosa Lily (see picture right) is a stunning climbing plant that is grown from a tuber and is best grown in a pot in the UK as it requires a dry winter.
Remember that these are a climbing plant so provide support for it to attach its tendrils to, and away it will go.
Gloriosa Lily Care
You could decide to dig and store the tuber at the end of the growing season when it dies back , however you need to be very careful as the growing tip is easily damaged and this will be the end of the tuber.
We suggest that pot culture is easiest, pots can be stored in a dry position over winter and placed in a sunny position in spring, try not to water until signs of growth appear, fertilize during active growth with a liquid seaweed solution. Remember that Gloriosa Lilies do not like frosts.
You will need to repot Gloriosa Bulbs or Tubers every 2-3 years, carefully tip the pots out and remove the tubers, use a good quality potting mix and remember to clean the pots before reuse.
Gloriosa Bulbs are available for sale from the following growers
HIMALAYAN GARDENS Ltd
28 Marywell Brae, Kirriemuir, Angus, Scotland DD8 4BP, UK.
Rare and unusual Plants. Temperate and tropical flower bulbs and plants from around the world.
email bulbs@himalayangardens.com
You may also be interested in :