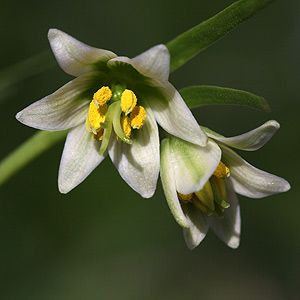 Fritillaria liliacea
The pretty little Fritillaria liliacea, one of the smaller growing Frits, originally from California and are in fact endemic to the area. With the common name of 'The Fragrant Fritillary' , we would call any fragrance very slight.
A small growing delight with lovely waxy, white to yellow dainty nodding star shaped open flowers, tinged with a green throat this is another Fritillaria bulb that is a must for collectors around the world.
In danger in its natural environment although bulbs and seed are readily available for cultivation.
Care
Like most other species, Fritillaria liliacea requires a well drained position to avoid bulb rot, and can be successfully grown in a container or pot. This is a species that grows well in full sun.
For more Fritillaria and Fritillaria Nurseries in the UK see our Main Fritillaria page or view information on individual species below: