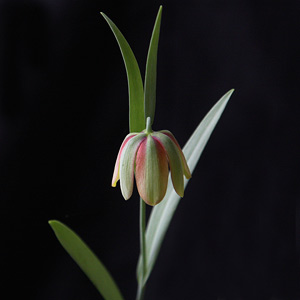 Fritillaria gussichiae
Originally from Greece and Yugoslavia Fritillaria gussichiae (pictured right) is a medium growing, and 'easy care' fit however it is not often found in bulb catalogues.
Growing to almost 20cm Fritillaria gussichiae does well in a well drained position. Flowers are green with inner petals of a deep red. Foliage is silvery green, lasting for 2 -3 weeks and are a most attractive delicate form.
Although variable in color with some having more green than others the flowers are not tessellated. Closely related and similar to F. graeca and F. pontica.
The argument as to if this bulb should be Fritillaria gussichiae or F. graeca ssp. gussichiae is clouded by its close resemblance to F.pontica
Care
Fritillaria gussichiae grows well in pots or containers and grows well when naturalized in a well drained position in woodland garden.
Threatened in its native habitat by grazing and clearing of land Fritillaria gussichiae seems to thrive in areas where limestone is prevalent and this perhaps gives us a key to its successful cultivation.
This may be especially true in container growing where some added lime may be of benefit.
For more Fritillaria and Fritillaria Nurseries in the UK see our Main Fritillaria page or view information on individual species below: