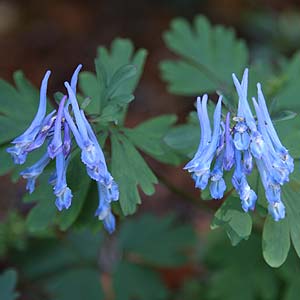 Corydalis flexuosa
Corydalis flexuosa with its wonderful blue spurred flowers and ferny foliage is an excellent choice for a shady position in the border.
Flowering in late winter to spring with clear blue flowers Corydalis flexuosa will spread slowly by underground rhizomes as well as by self seeding.
A number of named cultivars are available including 'china blue', 'blue panda' and 'peer david'.
C. flexuosa is a lovely plant in a woodland setting the interesting 'golden panda' still with blue flowers but foliage with a real golden tone to it as it moves towards autumn.
All of the blue Corydalis are clumping perennials that flower from spring to early summer. A purple leafed cultivar is also available. Summer dormancy will depend on the climate, the hotter the summer the earlier the dormancy.
Corydalis flexuosa Care
A humus rich moist but well drained soil is essential as is a position in dappled shade, or at least protection from afternoon sun. In full growth it will reach around 25 cm in height and is summer dormant, Corydalis flexuosa can be grown in containers.
Propagation is by division of the rhizomes in early spring or from seed.
You may also be interested in