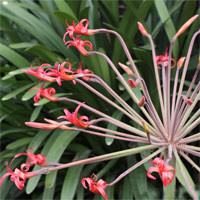 Brunsvigia
Brunsvigia are a group of plants from South Africa with unusual and spectacular flowers, and many can be grown in the UK given proper care and conditions.
Some are summer flowering and some are winter flowering, however they all require a well drained soil and in the UK are best grown in pots or containers or at least a very well drained sunny position in the garden.
Once planted even mature bulbs seem to take 2-3 years to 'settle in' and produce flowers.
Brunsvigia varieties
B. bosmaniae has large pink flowers on a bare stem while B. josephinae (pictured right) has red flowers in autumn and attarctive deep green foliage
B. orientalis is another red flowering species while B. littoralis and the smaller growing but very attractive B. appendiculata are well worth looking for.
Brunsvigia gregaria is one species found naturally growing in part shade, not as tall as many species but the large flower head and the ability to cope with cooler conditions make it one of the best to grow in the UK.