Auricula Plants
Auriculas are a fascinating group of plants that have developed from the species by hybridizers over many years.
With this group of plants we are looking at the fascinating, should I say beautiful cultivars available for sale, with flowers that never cease to amaze.
Auricula 'Rabley Heath' is pictured right, this one is classified as a 'Light centered Alpine' and is named after an area in Herefordshire.
Primula Auricula Care
These wonderful yet little grown plants are a little different in terms of care and cultivation to their relations (primulas). They need a very well drained soil, a good loamy soil is best.
Moring sun and dappled shad ein the afternoon, and make sure that air movement is good, this really helps prevent problems.
If you are growing Auricula in containers or pots then you may need to amend the potting mix with with some perlite to improve drainage. Try a ratio of 1:5, this will prevent problems during winter when rains can flood poorly drained pots and the Auricula plants will just rot.
Auricula Care Summary
Well drained soil
Morning Sun
Good air movement
Slow release fertilizer, especially in pots.
Auricula Types and Varieties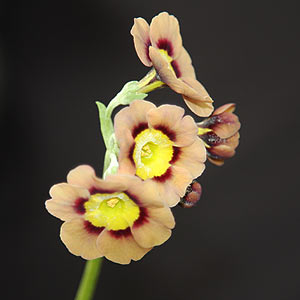 A few outstanding named varities can be found and one of the bright stars is Primula Auriculas Sirius. With a buttery golden centre, a ring af maroon and an outer of peach cream. It does change color as it ages, getting lighter, the most intense color is when the flower first opens. (pictured right)
You will get better flowering in the cooler climates, with some plants flowering over 2 months. Some varities are harder than others, and for perfect flowers a greenhouse or protected position will be best.
As with all plants hybridisers are busy developing new and different types, growers such as Barnhaven. Allen Harkes, Derek Parsons, Derek Salt and Richard Austin have all been great contributors to recent developments.
We are by no means experts on Primula Auricula, this however here is an attempt to explain a little about the various types of Auriculas that you may see in a show, and that you can find for sale from specialist nurseries. The modern Auricula falls into 4 main sections with sub sections
Show - These have a second colour near the yellow tube center called a farina or 'paste', it is a white colour
Edged - A frosty, icing edge around the dark petal

Selfs - The se have a petal with one colour and a ring around the stamen in the centre

Striped - Irregular stripes, very popular for many years, fell out of favour, however with new releaes are making a comeback.

Fancy - The ones that do not fit in above, but have 'pastes'
Alpines - These have a single colour in the centre and are perhaps the easiest for the beginner.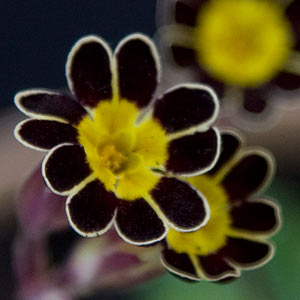 Light centred

Gold centred

Laced

Fancy

Borders - A hardy garden group, many are fragrant and some varieties have been available for many years. Perhaps the 'original'Auriculas and as the name suggests they are easy to grow in the garden border.

Doubles - As with all doubles, a double flower, or enough petals to cover the centre.
So variety in Primula auricula is fascinating, we know of individual growers with over 1000 cultivars, and that's just in the UK.
Auricula plants and flower for sale online in the UK

KENT COTTAGE PLANTS - Auricla & Primula
email - kentcottageplants@gmail.com
Auricula and Primula - only small but growing, superb quality and service.
www.kentcottageplants.weebly.com
BARNHAVEN PRIMROSES- Tel/Fax: 00 33 (2) 96 35 68 41
11 rue du pont blanc - 22310 - Plestin Les Grèves.
Mail order suppliers of hand-pollinated primula seed. From Brittany we send seeds worldwide and plants within France and Europe (outside Europe by special request). Incl. Primroses, Polyanthus, Asiatic primulas and Auriculas.
www. barnhaven.com
CRESCENT PLANTS - June Poole Tel/Fax: 01432 880262
Stoney Cross, Marden, Hereford, HR1 3EW
Primula Auricula, Borders, Doubles, Edges, Shows, Selfs, Fancies, Stripes. Open By appointment only. Mail order available, Free UK post and packing
www.auriculas.co.uk
Auricula Theatres
And yes you can buy Auricula Theatres. If you have a collection this is a great way to show them off. You can use the traditional black cloth behind the plants, however any makeshift stand will do the job.
The traditional types were stands (Theatres), originally designed specifically to protect the wonderful flowers from wind and rain as well as allow the plants to be 'shown off' when in full flower.
Auricula growers have always been very proud of the plants and flowers that they grow, and when we take a closer look, we can see why.
You may also be interested in