Hot Tubs, Jacuzzis, Soft Tubs, Garden Spas and Portable Spas
Portable Spas, Saltwater Hot Tubs, Soft Tubs, Swimming Spas and Exercise Pools are increasingly popular in outdoor living and entertainment areas across the UK. Soft Tubs are a portable lightweight weather resistant solution that plugs into a standard power outlet. A huge range of Hot Tubs and Portable Garden Spas are available for sale from online retailers as well as from Nurseries, Garden Centres and Hot Tub, Spa and Soft Tub specialists in the UK at NurseriesOnline UK
Garden Spas & Hot Tubs for the UK
Many garden centres and nurseries are now quite often also host to a range of other businesses, one of which is garden spas and hot tub dealers. For those lucky enough to own one, you will know the value of having a hot bubbling Jacuzzi ready and waiting for you after a hard day at work.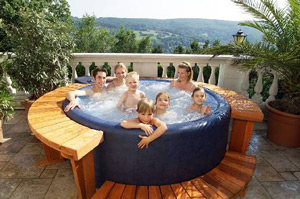 Many spa owners comment on how the home garden spa provides "quality time" with a spouse, family and friends.
An evening spent gazing at the stars sipping on a beverage whilst chatting to your loved ones, whilst being gently massaged by the jets of hot water...
Garden spas vary greatly in price. At the lower end you will have inflatable spas such as Lay-z-spa and M-spa's Camaro spa and inflatable spas, all are an economical solution.
Hard shell Jacuzzis are usually at the high end a fair bit more costly, and require a more complicated installation of plumbing and electrics, in a permanent fixture more often than not. One of the best value spas we have found on the market in terms of , quality of experience, innovation and ease of installation is a Softub Spa.
Garden Hot tubs can also be inflatable and durable
Softub Spas are long lasting, durable, portable garden spas and can be installed in under an hour. No complicated machinery or special plumbing or wiring is necessary, and due to it's innovative technology has an extremely low running cost.
Heat is reclaimed from the pump, and therefore no extra heating element is required. The comfortable surface is both soft and strong. The structure is a re-enforced polybond which is very light, but somehow manages not to break when a elephant stands on it! We've seen the photos!
Owning a garden spa enables you to get the most out of your garden all year round. It's not much fun in the rain, but cold temperatures and strong winds, even two foot of snow will not stop you from enjoying your spa. Garden spas are therapeutic and a great reliever of stress.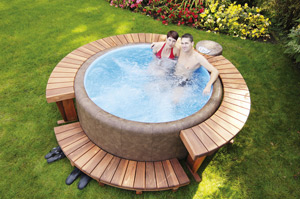 So all types of spas, jacuzzis and hot tubs have a range of advantages and disadvantages, ease of instalment and different costs, for all round value we like the Soft Tub Spas.
Hot Tubs, Spas and Jacuzzis are suitable for a range in installations, check with local authorities for any regulations before purchasing and installing.

The surrounds are important, so choose a Hot Tub or Spa that features a surround that fits in with your needs.
And yes you will need a flat area to install the Hot Tub or Spa.

Hot Tub, Jacuzzi and Garden Spa suppliers will be happy to answer any other installation of running and maintenance questions
Hot Tubs, Portable Spas, Jacuzzis and Garden Spas for sale online in the UK
SOFT TUB SPAS UK
Looking for Soft Tub Spas in the UK?
Spas, Accessories, Chemicals and Filters
www.softubspas.co.uk
You May Also Like