Garden Statues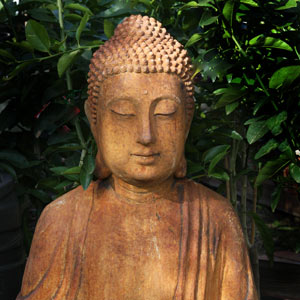 Available in a huge range of styles and designs to fit in with most garden design needs, garden statues can provide a focal point for any garden.
Statues for sale for the garden are made in materials including Stone, Bronze, Resin, Cement, Sandstone and timber. Buddha, garden lions, garden gnomes, balinese style statues, angels, griffins and figures are all available in contemporary and traditional designs.
Religious garden and commemorative outdoor statues are also widely available for sale.
Garden Statues vary greatly in style from traditional designs to individual contemporary garden statues commissioned for specific gardens.
Garden statues may be stand alone features or designed to blend in with the garden itself. Many modern water features and bird baths have elements of garden statuary built into the design.
Consider providing lighting for feature statues, well used lighting can make a statue a stand out feature at night.
Garden Statue Suppliers for the UK
JULIEANN WORRALL HOOD
Julieann works to commission. See more examples of her sculptures and mosaics on her website www.woho.co.uk or contact her on 01672 851664
DAVID HARBER
Blewburton Barns, Hagbourne Road, Aston Upthorpe,
Oxon OX11 9EE
Phone/fax: +44 (0)1235 859300/+44 (0)1235 851125
David Harber is a leading UK maker of sundials, garden sculpture and water features.
You May Also Like