Cottage Garden Design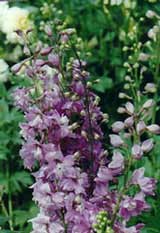 You need old fashioned flowering plants for a cottage garden Right? Well actually that's wrong.
Cottage gardens are one of the oldest styles of gardens in the UK, seem as full of flowering plants they have been adapted to form a style of garden border, but what are cottage gardens, and where do they originate? What is a list of plants suitable to use in a cottage garden, what are the rules?
Cottage gardens were originally the gardens of workers cottages, they were full of plants often left to self to self seed and included a wide range of productive plants as well, fruit trees, herbs and vegetables were all on the list of plants includes in gardens of this style. And in those days you would get your plants from cuttings and friends (people had very little money)
Cottage garden design ideas
lots of plants packed in together
flowering and productive plants used together
not much in the way or ornamentation, no fountains, no statues
straight paths, the path from the street to the front door was usually straight, the early working type cottage gardeners were 'straight to the point' they had no time for deviation
forget lawns and paved areas, these gardens were for growing, not mowing
But that's not what today's cottage garden looks like is it ?
Well yes and no, the planting is the same in that the crowded look is essential, no formal lines of plants and certainly every inch of ground is used, but the rest of the rules are just waiting to be broken.
Curved paths, go for it they can create a relaxed feel.
Old Fashioned plant list, well if you like, but no need to be slavish about it
Fountains, why not, as long as they blend in
Paving and Lawns... try to limit it a little
Productive plants, herbs, vegetable, fruit trees. We say yes, because everyone should be growing food if they have the space
Outdoor eating, tables, chairs. Why not, connecting the indoors with the outdoors can be a great living style, alfresco living in the UK, well its good in the summer anyway.
List of Cottage Garden Plants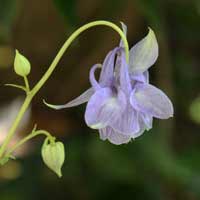 Everyone likes a list so here is our list of cottage garden plants.
Aconitum (Monkshood)
Alcea (Hollyhocks)
Alchilla mollis (Lady's Mantle)
Aquilegia Columbines or Granny's Bonnets)
Bergenia
Campanula (Canterbury Bells)
Clematis
Crocus
Daffodils
Delphinium
Dianthus (sweet Williams and others)
Digitalis (Foxgloves)
Doronicum (Leopards Bane)
Fruit Trees (Plum and Apple)
Geraniums
Heuchera (Coral bells)
Hydrangea
Iris (Bearded Iris and Siberian Iris)
Lavandula (Lavender)
Leucanthemun (Daisies)
Nepeta (Catmint)
Peony
Penstemon
Phlox paniculata (Perennial Phlox)
Primula
Rudbeckia
Roses
Salvia
Verbena
Viola (Violets)
Herbs Vegetable, Berries And Fruit Trees
Dill
Parsley
Oregeno
Thyme
Rosemary
Berry fruit plants (raspberries etc)
Apple and Plum Trees
Lettuce
Potatoes
Carrots
Whatever will grow and produce food......

For a complete list of flowering plants and where to buy them visit our
A - Z mail order and specialist nursery page