Vinca Minor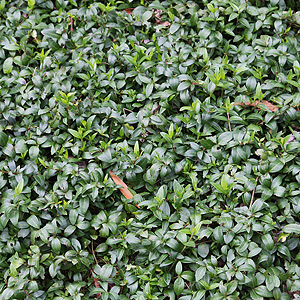 Vinca are a group of low growing ground cover plants perhaps best known in the UK for Vinca minor or 'periwinkle' and sometimes the 'creeping myrtle.
Although the flowers of Vinca minor are pretty, they appear from spring through to autumn, it is the foliage that forms a dense mat that makes this plant such a valuable ground cover. It is fast spreading, low growing and requires little to no care. Excellent for beneath deciduous trees where it will grow in fairly dry conditions.
The glossy green foliage in itself works well as an attractive ground cover, reaching only around 8 inches this is a fast spreading plant that will send down roots wherever the stems come into contact with the ground.

Flower color on the species Vinca minor is a mauve, however cultivars such as 'atropurpurea' have deeper colored flowers, to a purple.
Growing conditions and care
Vinca minor is a tough plant, thriving in moist shaded positions, but still able to grow in drier sunny areas it can become a problem if left to ;get away'. We suggest planting in an area where you need a ground cover that will spread, because spread it will. We also suggest a position that has some 'natural boundaries, paths and buildings.
Full sun to dappled shade
Well drained soil
Evergreen foliage
Flowers are purple
Spreads rapidly by runners that sent down roots easily.
Vinca plants are available for sale from the following nurseries
MOUNT FOLLY NURSERIES
Southwick Road North Boarhunt Near Wickham Hants PO17 6JH
Phone : 01329 832294 : 07000 M-O-U-N-T-F : 07000 F-U-C-H-S-I-A
Young plants specialists. Growing Fuchsias, Geraniums, Patio Plants and Plug Plants. One of the best selections available in the UK direct from the grower!
www.mountfolly.co.uk
THE PLANTSMAN'S PREFERENCE - Phone +44 (0) 7799 855559 or +44 (0) 7733 074141
Church Road, South Lopham, near Diss Norfolk NO POST PLEASE
HARPTREE NURSERY Phone : 761 221370: FAX: 01761 221989
Bristol Rd West Harptree Somerset BS40 6HG
You may also be interested in :