Topiary Trees, Frames, Equipment
Topiary is the art of 'plant sculpture', clipping and training trees and shrubs into sculptural shapes.
Topiary has been used in English Gardens for centuries to create traditional gardening shapes such as spirals, cloud pruned, pyramids, balls and others, as well as animals, characters and even corporate logos. In general the shrubs used for topiary have small leaves and dense foliage.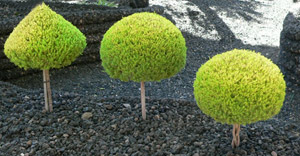 Topiary Frames can be used as a guide for growing topiary and English Box is one of the more common plants used, Yew, Solanums, Ficus, Rosemary, Olives, Conifers and Hebes are other commonly used topiary plants.
Specialist Topiary Shears are available for trimming topiary plants.Artificial Topiary plants are also available from some suppliers.
Topiary has been a popular feature of english gardens for many years and perhaps the displays in many gardens and at the Chelsea Flower show indicate the popularity of the art today.
Topiary Equipment
When working with topiary some useful equipment includes topiary frames and shears. Topiary frames, plants, trees and topiary shears are all readily available for sale online.
Topiary Plants and equipment for sale in the UK
HEDGES DIRECT Ltd - Phone 01257 263873
Five Acres Nursery Dawbers Lane Euxton PR7 6EE
Huge range of beautiful hedging plants, bare root, cell grown, pot grown, or root balled. All the main hedging species in all sizes. Thousands of satisfied customers. Discounts on large orders. Min order value £20 & FREE DELIVERY on orders over £50. Advice by phone or email helpdesk@hedgesdirect.co.uk
www.hedgesdirect.co.uk
WREFORD GROUND MAINTENANCE Ltd - HEDGING and TOPIARY
Romsey Road, Ower, Southampton, Hampshire SO51 6AF
Tel. 02380 813641 Fax. 02380 813737
Supplying a wide variety of hedging and bespoke topiary. Free delivery throughout the UK. Mature Hedging, Trees, Shrubs and Topiary
www.hedgingandtopiary.co.uk
THE ROMANTIC GARDEN NURSERY - Tel 01603 261488 Fax 01603 864231
The Street Swannington Norwich Norfolk NR9 5NW
Specialist nursery, large stock of Topiary, Ornamental Standards and Specimen size Shrubs and Trees.
HOPES GROVE GARDEN NURSERIES - Telephone: 01580 765600
The Estate Office, Smallhythe Road Tenterden, Kent TN30 7LT
Hopes Grove Garden Nurseries based in Kent have a wide range on hedges & plants available online
CREATIVE PLANTS - Tel: 01404 850163
Lashbrook Farmhouse, Talaton, Devon EX5 2RU
Mediterranean plants, tropical plants, and exotics such as palms, olive trees up to 80 years old, wisteria, & topiary. mail order or visit us wholesale enquires welcomed.
You may also be interested in :