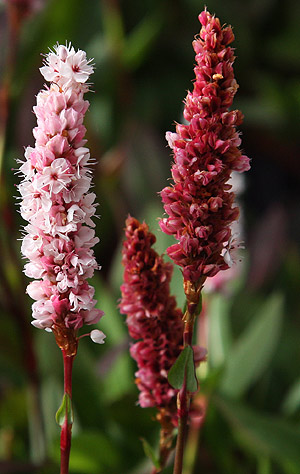 Persicaria affiinis
A matt forming perennial Persicaria affiinis is grown as a ground cover plant as well as for the spires of pink to red flowers that rise above the foliage from spring through summer to autumn.
It is useful as it is evergreen with attractive mid to dark green foliage that tends to turn to a deep red to bronze in winter, especially in cooler climates. Also own as 'Knotweed' and 'Himalayan fleece flower'
A plant that grows well in moist soil, and will survive in dry conditions, however it is in the moist soils that it reaches its true potential.
Persicaria affiinis Varieties
Persicaria affiinis 'Dimity' is a dwarf variety.

Persicaria affiinis 'Donald Lowndes' has flowers that are tending more to pink
Persicaria affiinis Care
This is not a fussy plant, soil conditions do not seem to worry it to much as long as it is well drained and a little moist. Loved by gardeners as it is such a low maintenance plant.
Plant in a humus rich well drained soil in a sunny position
You can shear off the spent flower heads if you wish, however that is about it.

Frost will tend to knock Persicaria affiinis back, however it seems to bounce back well in spring.

The taller growing varieties will reach a height of around 20cm for the foliage with the flower spikes reaching 50cm.
Usually available for sale in nurseries in early spring
You may also be interested in