Iris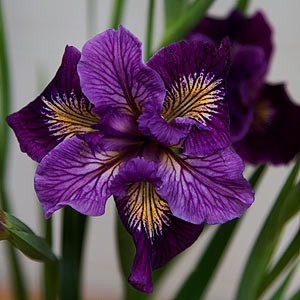 Flowering Iris plants grow from both bulbs and rhizomes, they are a varied group with many species easy to grow in the UK.
Some Iris plants flower from true bulbs, including the much loved blue 'Dutch Iris', others such as the 'Bearded Iris' grow from rhizomes, all and are available for sale from specialist Nurseries by mail as bulbs or bare rooted dormant plants.
Growers in the UK have so many fantastic varieties and colors of this wonderful flowering species, the name the Greeks gave this flower 'Iris' really fits the flower, a species that derives its name from the greek word for rainbow. Or to be precise the messenger of love who traveled on the rainbow.
The Iris Flower
The Iris flower typically has 3 inner petals and 3 outer sepals, the sepals are referred to as falls as they tend to droop downwards. The petals of the iris flower are more upright and are referred to as standards.
Iris Varieties
Growing from rhizomes or bulbs depending on species, and with iris being found from cold areas to desert areas a wide range of species exist.
Bearded Iris are probably the most popular iris available for sale, however it is well worth exploring the wide world of iris, with dwarf iris, and iris that grow to over 1m, iris that handle very wet conditions and many iris that thrive in dry conditions they are truly a versatile plant.
Iris varieties include:
Beardless rhizomatous irises

Bulbous irises

"Junos" Bulbous irises

Iris Nurseries - Iris Plant and Bulbs for Sale Online in the UK
MOUNT FOLLY NURSERIES - phone : 01329 832294
Southwick Road North Boarhunt Near Wickham Hants PO17 6JH
Young plants specialists. Growing Fuchsias, Geraniums, Patio Plants and Plug Plants. One of the best selections available in the UK direct from the grower!
www.mountfolly.co.uk

MINIATURE BULBS & WILDFLOWER BULBS - phone/Fax: 01423 542819
9 Greengate Drive, Knaresborough, HG5 9EN
Iris - An extensive range of dwarf growing iris suitable for pots, rockery or garden in a range of colours. Many are rare. Height normally 4in, flowering in February and March. Mail order spring bulb specialists.


THE IRIS GARDEN - phone: 01308 868797
Postal Address - Yard House, Pilsdon, Bridport, Dorset DT6 5PA
Space Age bearded iris, for which we hold the National Collection, but we also have flat Tall Bearded iris and other types of Bearded iris. We also stock Siberians and Spurias.

IRIS OF SISSINGHURST - phone: 01622 831511
Postal: Roughlands Farm Goudhurst Rd Marden Kent TN12 9NH
We grow Iris - only Iris We specialise in growing all types of Iris,Short Intermediate and Tall bearded iris, Siberian, Ensatas, Species and Louisianas . Iris for all locations

PRIME PERENNIALS NURSERY - phone 01974 241505
Llety Moel Rhos-y-garth, Llanilar, Aberystwyth Ceredigion SY23 4SG
Specialist mail-order nursery. Unusual perennials, bulbs and grasses. Special emphasis on the conservation & promotion of South African Tulbaghia from our NCCPG National Collection®.

THE PLANTSMAN'S PREFERENCE - phone +44 (0) 7799 855559
Church Road, South Lopham, near Diss Norfolk NO POST PLEASE
Open Friday - Sunday, 9.30-5.00 March to October inc.
National Plant Collection® of Molinia hardy geranium, ornamental grasses, carex, festuca, elymus, molinia, miscanthus, panicum, pennisetum, stipa, rare plant, unusual perennials, perennial, woodland plants, shade plant, iris.


BROADLEIGH GARDENS - phone 01823 286231
Bishops Hull Taunton TA4 1AE
Includes: Pacific Coast Iris, Dutch Iris, Reticulata
Mail order bulb specialists Tulips, Crocus, Narcissus, Iris, Colchicum, Lilium, Scilla and many more.......


MEADOWVIEW NURSERY - phone 01932 843475
Postal Address 8 Bourne Way, Addlestone, Surrey KT15 2BT
Meadowview nursery grow and sell top quality bare root peonies, Irises , daylillies, roses and an assortment of other perennials throughout the year .

CLAIRE AUSTIN HARDY PLANTS Hardy - phone: 01939 251173
Edgebolton, Shawbury, Shropshire, SY4 4EL
We are mail order specialists of herbaceous perennials, including bearded irises, herbaceous & tree peonies. The catalogue and website list over 700 different varieties.

WALNUT TREE GARDEN NURSERY - phone 01953 488 163
Flymoor Lane Rocklands Attleborough Norfolk NR 17 1BP
Offering a wide range of herbaceous perennials, ornamental trees, shrubs and old roses; includes rare varieties and species and well-loved classics; large plantsmans' garden.

Iris are a diverse genus or plants and with well over 300 different Iris species requirements for growing different iris species vary. Consult your local nursery or mail order supplier for specific instructions.