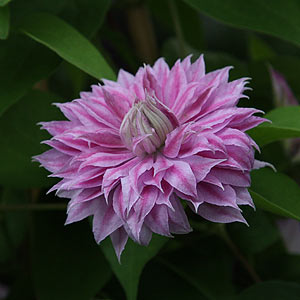 Clematis
Clematis are a group of climbing plants or vines, available for sale from a range of suppliers and growers in the UK, through online mail order suppliers and retail nurseries.
Most varieties are a vigorous deciduous or evergreen climbers depending on species. Clematis prefer to have a cool root run, so if you can find a position where the roots will be in the shade and the plant itself receives morning sun your clematis will love it.
Includes species and cultivars such as Clematis viticella, Clematis montana or the Anemone Clematis, Clematis florida sieboldii and C. texensis for sale from UK Nurseries
Many varieties make excellent container plants, they are well suited to growing on a patio with good morning sun as long a a trellis is provided for support.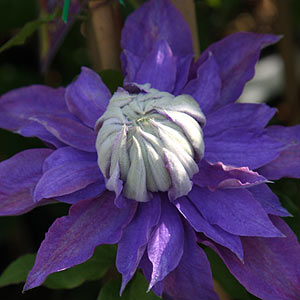 Varieties
In general the species and the hybrids are the main types offered. Smaller flowering types that produce blooms over an extended period are one choice. The larger flowering types with dinner plant sized blooms are more spectacular, but generally flower for a shorter period.
Some are early flowering other late, and certainly some species are much more fragrant than others. Flower colour adds to the pallete that any gardener can use to add a splash of colour to any sized garden.
Planting and Growing Clematis
We do not all have the perfect humus rich soil for growing clematis, however if you dig in lots of well rotted compost and manure and throw in a few handfuls of blood and bone a month before planting these fantastic climbers will love it.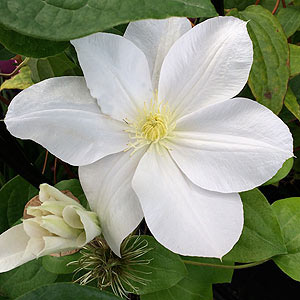 Remember that clematis like to be planted in a moist soil, but a well drained soil, you will find that if you mulch well once established they will need little water except in hot dry periods, the key is a cool root run.
Only feed clematis is autumn and early spring, as soon as the new buds start to show, stop fertilizing.
You may also be interested in
Clematis Plants are available for sale from the following growers and nurseries
TAYLORS CLEMATIS - phone 01302 700716
Sutton road Sutton Doncaster South Yorkshire DN6 9JZ

THORNCROFT CLEMATIS NURSERY phone/fax - 01953 850 407
The Lings, Reymerston, NORWICH, NR9 4QG

FIR TREE FARM NURSERY - phone : 01326 340593
Tresahor Constantine Falmouth Cornwall TR11 5PL
Over 100 varieties of Clematis.
THE HAWTHORNES NURSERY
email: richardhaw@talktalk.net
National Collection Holders of Clematis Viticella. Contact us for over 300 different varieties, many unusual species and smaller flowered cultivars.
WOOD COTTAGE NURSERY - phone/fax 01622813311
Maidstone Road Nettlestead Green Kent ME18 5HJ
e-mail roger@woodcottagenursery.com

WALLED GARDEN NURSERY - phone 01666826637
Brinkworth House, Brinkworth, Wiltshire SN155DF
email- sales@clematis-nursery.co.uk

CLEMATIS CHOICE - (mobile): 07745 175023
Lower Toollands West Bagborough Taunton Somerset TA4 3EP
Supplier of high quality Clematis including, Large Flowered Hybrids, Montana, Viticella, Alpina, Macropetala, and Texensis..
You may also be interested in :