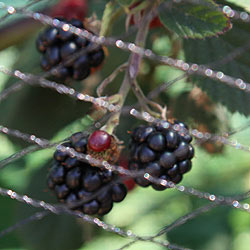 Berry Fruits
Generally berry fruit varieties refer to small fruits that have either no seeds, or the seeds are small and edible. If we look at the most popular varieties the familiar Raspberry, Blackberry and Mulberry are well known. Although technically the Raspberry is not really a berry fruit.
One the surprising side, grapes and persimmons are both classed as berry fruits.
Berry fruit are classified as both cane fruit, bush fruit and small fruit, depending on growth habit.
Lesser known and new introductions include Acai Berry, Barberry, Huckleberry and Cloudberry
Being such a diverse group of plants growing conditions vary considerably and individual care instructions are available on specialist sections of this web site. Not all of these berry plants are suited to growing in the UK, however many are. So consider suitable varieties for you own garden, many are easy care and are well suited to our climate.
List of Berry Fruit
Acai berry

Blackberry

Bilberry

Bearberry

Raspberry

Currant

Cranberry

Cloudberry

Dewberry

Elderberry

Huckleberry

Grapes

Goji Berry

Lignonberry

Wineberry

Bilberry

Blueberry

Nannyberry

Persimmon

Barberry

Gooseberry

Mulberry
A few berry fruit hybrids are also available and these include
Boysenberry - Raspberry x Logan Berry x Blackberry

Loga nberry - Raspberry x Blackberry

Tayberry - Loganberry x B;ack Raspberry

Youngberry - Dewberry x Blackberry
Berry Fruit are available fro sale from the following suppliers
WELSH FRUIT STOCKS
Nigel and Sian Fromant tel/fax 01497 851 209
Llanerchir, Bryngwyn, Kington, HR5 3QZ
Top quality soft fruit plants, both organic and conventional direct from the propagators in east Wales. Strawberry plants, raspberry canes, bush fruits and rhubarb supplied by mail order to gardeners and commercial growers throughout the UK. PHPS certified stocks. We are a family run business offering a caring and friendly service.
email sian@welshfruitstocks.co.uk
WEB: www.welshfruitstocks.co.uk

BLACKMOOR NURSERIES
Blackmoor, Nr Liss, Hampshire, GU33 6BS No. 201364
The Uk's leading grower of fruit trees and soft fruit plants. For over 40 years Blackmoor Nurseries have been supplying top quality fruit trees and soft fruit plants to commercial growers and garden centres. In recent years we have been supplying increasing numbers of plants directly to people who want the pleasure and benefits of growing fruit in their own gardens.
WEB: www.blackmoorestate.co.uk
Ashridge Trees
ASHRIDGE TREES Limited
Grove Cross Barn, Castle Cary, Somerset BA7 7NJ
Tel.: +44 (0) 1963 359444 Fax: +44 (0) 1963 359445
Includes Soft Fruit: Blackberries, Boysenberries, Gooseberries, Raspberries, Blackcurrants, Redcurrants and Whitecurrants and others (not strawberries)
WEB: www..ashridgetrees.co.uk
Spring Reach Nursery
SPRING REACH NURSERY
Long Reach Ockham Surrey GU23 6PG
Tel 01483-284769 FAX 01483 -284769
An award winning plant nursery and one of the South's best kept secrets. We are set in heart of Surrey, and only 5 mins drive from RHS Wisley. Includes Rubus. Raspberry, Boysenberry, Blackberry.
e-mail: info@springreachnursery.co.uk
WEB: www.springreachnursery.co.uk