Verbena plants
Verbena plants are a versatile garden plant (flower) with species of verbena flowering from spring right through to autumn. Verbena are popular in rock gardens and also work well in hanging baskets. Verbena bonariensis is one of the most popular species with a number of cultivars available for sale.
Varieties and species
Verbena bonariensis, verbena rigida, verbena officinalis and verbena hastata are all popular forms. Verbena bonariensis is a tall growing species to 120cm.
Verbena Care
Verbena are an excellent border plant, long flowering and relatively easy to grow. Verbena can be grown from seeds planted in early spring, and it is worth looking out for new 'dwarf' varieties. In colder areas verbena will die back in winter, we suggest leaving pruning until the end of winter.
Verbena bonariensis is a tall growing species to Im and makes an excellent border plant.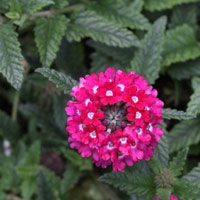 Verbena peruviana (above right) is low growing mound forming ground cover that produces lots of flowers from summer through to autumn.

Verbena is available for sale from the following nurseries

MOUNT FOLLY NURSERIES - phone: 01329 832294 : 07000 M-O-U-N-T-F
Southwick Road North Boarhunt Near Wickham Hants PO17 6JH
Includes: Verbena. Young plants specialists. Growing Fuchsias, Geraniums, Patio Plants and Plug Plants. One of the best selections available in the UK direct from the grower!
You may also be interested in :