Sempervivum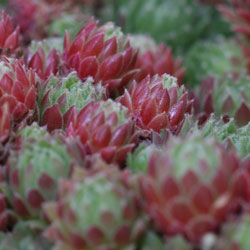 Sempervivum (house leek or hens and chicken) are available for sale by post or mail order from online nurseries and many species can be grown from seed.
Cultivars such as Sempervivum 'Commander Hay' are readily available for sale online. Sempervivum are an alpine succulent and with over 50 species including the popular sempervivum tectorum, Sempervivum arachnoideum (cobweb houseleek), Sempervivum montanum and many cultivars.
Some specialist nurseries also offer many rare and unusual species are also available for the keen gardener.

Sempervivum Care
Sempervivums are very easy to care for and are often grown in pots, good drainage is essential.
They are a varied group of plants so individual care instructions will vary, they suitable for growing in most gardens and many are matt forming evergreen species that look great in containers.
You may also be interested in
Sempervivum plants are available for sale online from the following specialist nurseries
ABRIACHAN NURSERIES, 'The Garden on Loch Ness'
Loch Ness Side Inverness IV3 8LA
Tel/fax: 01463 861 232
We are a unique & beautiful garden on the shore on Loch Ness. Our woodland garden has several acres of winding paths, creative plantings and stunning views over the Loch. The selling nursery holds many hardy unusual plants, a treasure trove of shrubs & perennials.
We specialise in primulas, auriculas, sempervivums and helianthemums.
www.lochnessgarden.com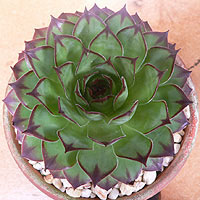 TOUCHWOOD PLANTS - Carrie Thomas tel 01792 522443
Postal Address 4 Clyne Valley Cottages, Killay, Swansea, SA2 7DU
Rare & cottage garden plants. Extensive seed lists, also plants for sale.
www.touchwoodplants.co.uk
KEVOCK GARDEN PLANTS - Telephone/Fax: 0131 454 0660
Postal Address: 16 Kevock Road, Lasswade, Midlothian EH18 1HT
Unusual alpine, bog, woodland and herbaceous plants, shrubs and bulbs.
www.kevockgarden.co.uk
THE CURIOUS PLANT COMPANY - Online only based in Suffolk - Tel: 07766023226
Contact robertkimber@hotmail.com
Specialist nursery stocking sempervivum, plumeria, adenium, myrrh, coffee, cotton, willy chillies.
THE ALPINE AND GRASS NURSERY - Tel: 01775 640935
Northgate, Pinchbeck Spalding Lincolnshire PE11 3TB
Mail order and wholesale growers of alpines/rockery plants and ornamental grasses.
SEMPS BY POST
28 Mill Road Newbourne Woodbridge Suffolk IP12 4NP
Specialist Sempervium nursery offering a large range of Sempervium by post.
You may also be interested in :