Gunnera manicata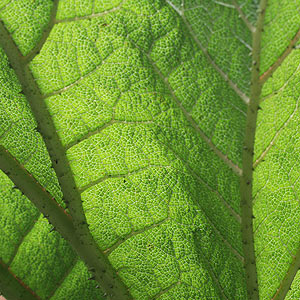 It is not unusual that the best view of a plant is from beneath the foliage, however with Gunnera manicata, it delivers on the view in shades.
Stand beneath the huge leaves on a sunny day and the filterd green light is rather magical. And yes you can find Gunnera manicata plants for sale in the UK.
A popular foliage plant in the UK and are widely used for the texture of the large leaves, Gunnera manicata is the most widely sold species, however there are more.
Also known as giant rhubarb Gunnera manicata is the largest species. originally from Brazil and works well in the cottage garden particularly in damp areas. Some other species of giant gunneras available for sale such as G. tinctoria and they also make this a truly a spectacular architectural plant. Remember that the foliage of these plants is covered with small prickles, so handling requires some care.
Gunnera manicata Care
Growing well in full sun to part shade the main requirements are a fertile rich soil and plently of moisture, these giant foliage plants grow well in the margins of a pond. Gunnera can be grown from seed or plants can be purchased as a bulb.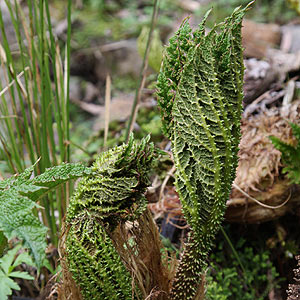 Plant bulbs below the surface, seeds can be sown directly as well. These plants will self seed and if planted next to slow mowing water they can tend to 'take over'.
A humus rich soil with a year round moistness provides ideal growing conditions for this feature plant grown mainly for its foliage. Gunnera needs protection from frost in winter when it dies back, so mulch well to help next years growth survive.
Propagation is by division of larger clumps when dormant or from seeds.
Although the foliage looks great, the new growth is also fascinating, twisted and with a portent that something big is about to happed, and indeed it does.
Other species
G. hamaltonii is a smaller growing species that works well as a ground cover as does G. magellanica.
Gunnera manicata is available for sale from the following nurseries
ABRIACHAN NURSERIES, 'The Garden on Loch Ness' - phone: 01463 861 232
Loch Ness Side Inverness IV3 8LA
Unique & beautiful garden on the shore on Loch Ness. Woodland garden has several acres of winding paths, creative plantings and stunning views over the Loch. Nursery holds many hardy unusual plants, a treasure trove of shrubs & perennials.