Agave Plants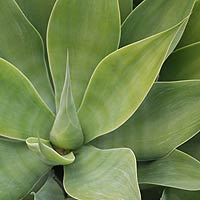 Agave plants for sale in the UK come from a group of succulents mainly from Mexico and Central America. Agave americana and Agave attenuata ( see picture right ) are popular forms. The sculptural shape of the foliage makes them suited for use with to many modern architectural landscape designs.
Agave are a useful plant in that they have dramatic foliage, interesting flowers and can be container grown. We provide notes on Agave care.
Agave have become an important plant for landscapers, with strong architectural shapes agaves make a dramatic statement in the garden. Grown in a pot agaves can make great specimen plants, planted in mass or as a border the impact of agaves can be dramatic.
With over 350 species originating in Mexico and Southern USA you can find an agave for any situation. Agaves will flower, and they have great flowers, but be patient, agaves may take 5-10 years to flower.
Agave attenuata is a very popular variety, but look for varieties such as Agave desmettiana 'el miradores gold' a striking plant. Agaves will grow up 1.5m, agave americana species. However lower growing or dwarf species may only reach 30cm, Agave victoria regina, Agave univtata and the interesting form Agave toumeyana.
Growing and care, for Agave Plants
Agave like most succulents are sun loving, and are generally regared as drought tolerant. Like yuccas, agaves require very little maintenance. Removal of spent flower heads, occasional watering and fertilizer application every month or two will keep your yucca in good condition.
Agave are suitable for growing in containers or pots, especially the smaller species. And yes agaves can be a little weedy at times, but easy to control.
You may also be interested in
Agave plants are available for sale online from the following nurseries
AMULREE EXOTICS - Phone: 01508488101
The Turnpike, Norwich road, Fundenhall, Norwich, Norfolk NR161EL
Includes: Agave americana, agave attenuatta, agave chrysantha, agave nigra, agave striata, agave weberi and others.
www.turn-it-tropical.co.uk
SELECT SUCCULENTS
65, Lees Hill, Kingswood, Bristol. BS15 4TW - contact@selectsucculents.co.uk
Agave,succulents,online nursery,rare plants,seeds,horticultural advice
www.selectsucculents.co.uk