Raised Garden Beds
Raised Bed Gardening for vegetables and ornamental gardens is the latest trend in gardening, a practical solution to a gardening problem or just another way to sell you something, we look at the good and the bad feature of raised bed gardening.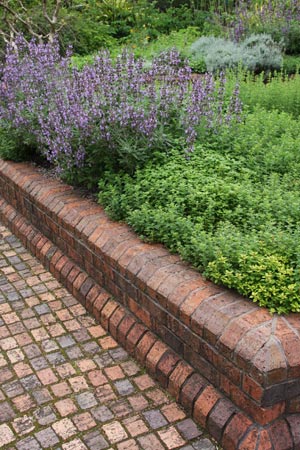 Raised bed kits and custom built systems are popular are useful both for aesthetic reasons and ease of access, and with portable or pre fabricated garden beds now available raised garden beds are also useful for those with limited space.
You can also try a 'DIY' approach to builing a raised garden bed, with the right materials, a few basic skills and the right tools, most gardeners can achieve this easily.
Popular for many years, they allow successful vegetable gardens and ornamental gardens to be established on poor soils as well as raising the garden bed itself to be raised to a more accessible level for easy access.
And if you are looking at styles and materials, they do not all need be made from plastic and wood, a formal raised garden bed made from good old bricks is another solution. (see picture right)
Advantages and Disadvantages of Raised Beds
Raised Garden Beds can provide improved drainage: Useful if drainage is a problem, in clay soils and waterlogged areas.
Prevents soil compaction. A raised garden bed discourages walking on the garden bed and makes it easier to prevent pets from encroaching. Soil or growing medium is built up with high quality soil and compost generally weed free at first However soil nutrients will need to be added and weeds will need to be prevented.
Generally more expensive to establish. The edging materials cost money as does the soil, compost, manure used for the garden bed. Increased watering better drainage means more water during dry periods.
Raised garden beds have been popular for many years, some of the great gardens of the world have raised garden beds, many are an integral part of the garden design. Raised garden beds are finding a new found popularity they prove easy access for gardeners, look greay and are practical.
Raised Garden beds may be constructed as either be temporary structures, garden beds that may be moved if required, or permanent structures, garden beds that are fixed such as stone, brick or masonry.
Height for a raised garden.
This will depend on the purpose,work out what you are trying to achieve, the purpose of a raised garden this will help determine the height. Purposes include:
for wheelchair access etc
as a design feature
to keep dogs away
as a design element
Depth for a raised garden bed.
A a different height is required for each of the above , however remember that raised garden beds will need to be a minimum depth for different plants. Herbs will only need 9inches cm. Root crops will need much more.
Width for a raised garden bed.
Generally speaking raised garden beds that need to be accessed easily should be no wider than twice the reach of the average person given access from both sides, or the reach of an average person if you only have access from one side.
Materials for making raised garden beds.
Materials for raised beds vary and are available in kit form. Raised garden beds should be constructed of non toxic materials, commercial raised garden beds come in a wide range of materials including:
Pressure treated timber
Timber
Metal
Recycled plastic
Brick and masonry
Concrete blocks
Poured concrete
Other Information
Raised garden beds help prevent soil compaction as they are usually designed to be of a width that allows easy access from both sides, the garden bed is not walked on.
¬?
Raised garden bed kits and systems allow for good drainage, however a raised bed with poor drainage can be real problem.
Raised Garden Bed Accessories
They can be constructed so that a cold frame or temporary green house can be placed over the bed to allow for an extended growing system.
Crop protection from birds and other pests using netting over hoops can also be added to a raised system.
Timber is the most popular material for raised garden beds particularly in an allotment situation. More permanent raised garden beds can be constructed using stone or bricks. Raised garden beds are great for vegetables and are also used widely for formal ornamental garden beds.
You May Also Like